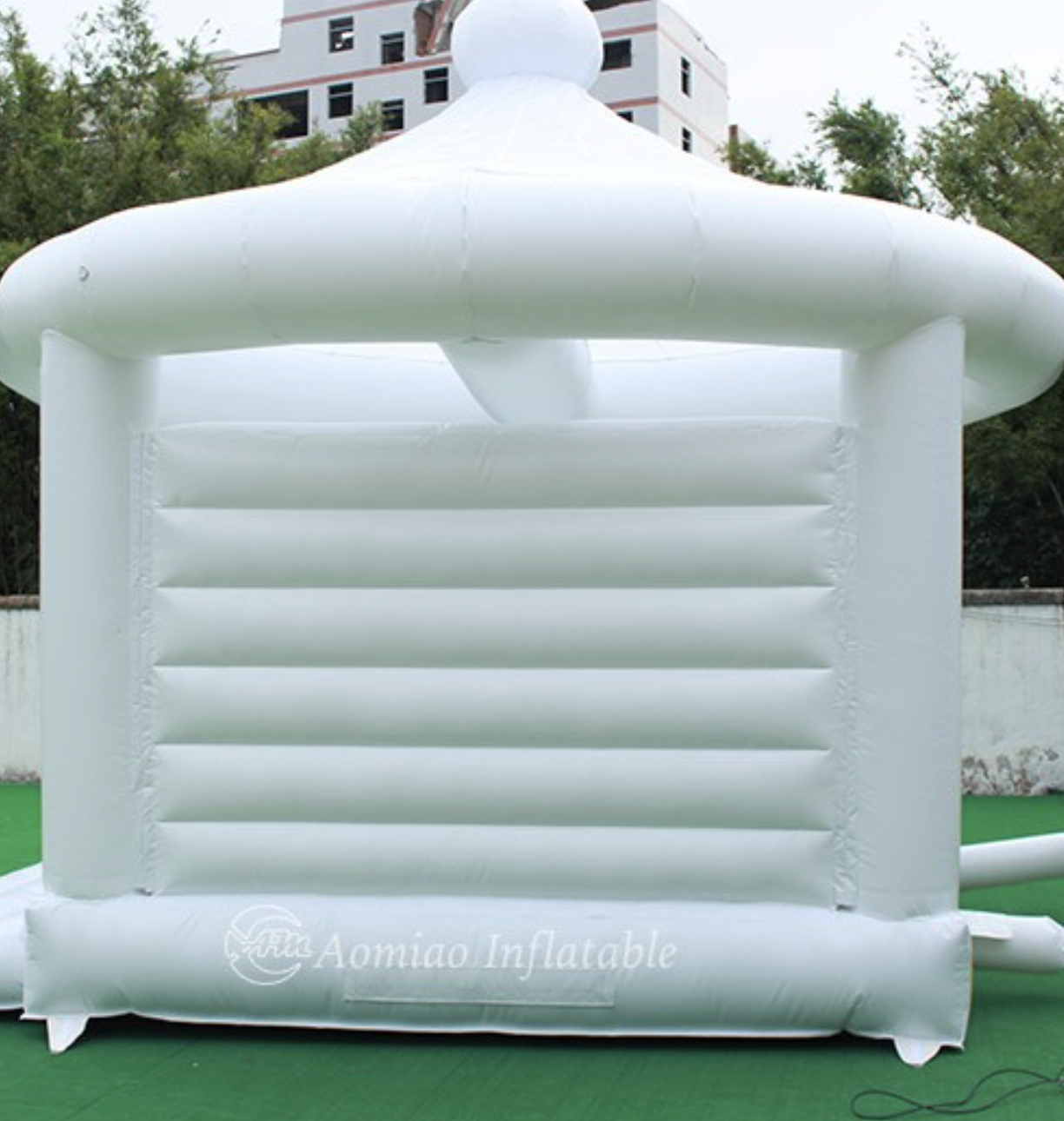 We are the area's top source for bounce house rental amenities. A lot of rental companies can say that, but we back it up by storing a big cache of inflatable fun for you to rent. Nor will you need to be doing any of the work. We inflate, clean, and repair all of our inflatable bouncy houses to ensure they look as great on the day you rent them as when we first got them. All you need to do is relax and watch your kids have a blast!
We offer a wide variety of bounce house rentals, from basic ones with classic designs to extravagant bounce house obstacle courses that will keep everyone entertained for hours. Plus, we can even customize the color or style of the inflatable so that it matches your event perfectly. To make sure everything runs smoothly at your event, we provide experienced staff members who will be there to help set up, take down, and monitor each bounce house rental. So whether you're hosting an outdoor birthday party or a school carnival, let us handle the details while you just enjoy the fun. Call today to book your Bounce House rental from our selection, and get ready to have a wild time. 
At Roseville Bounce House Rental, you can also find quality concession machines for your party. We offer popcorn, cotton candy, snow cone, and hot dog makers that are sure to bring smiles to everyone's faces. Our machines come with all necessary supplies including bags or cones and ingredients like sugar and syrup (all that stuff we're not supposed to eat unless circumstances call for it).
These items are easy to operate and will be delivered set up with instructions by one of our experienced staff members. It is always advised that an adult should remain nearby when operating any of our concession machines for safety reasons. Whether you're hosting a birthday party or a corporate event we've got the perfect concession machine for your gathering. Give us a call today and let us know what type of celebration you're having, so we can help find the best concession machines to make it even more special! 
We also offer carnival games that will be sure to bring an extra element of fun to any event. Our selection includes all sorts of classic carnival games; from Ring Toss and Duck Pond to High Striker and Milk Bottle Throw. We have a variety of sizes and styles available for rent, ensuring that everyone will have something fun to play with. All our rental products come with instructions on how to set up and use the game properly, as well as safety advice for all participants. Our experienced staff will also be there to help you with the setup and answer any questions that may arise. So let us provide excitement and entertainment for your next gathering—call (916) 975-8701 now to book your carnival game rental.
Our Mission
Our mission is to make you, the party emcee, happy with everything you've rented. This goes for making the kids happy, too. Indeed, those kids are our biggest critics. By their judgment, we measure our success.
That's why we make sure that all of the products you rent from us—bounce houses, concession machines, or carnival games—are in perfect condition before they're delivered and set up for your event. We are dedicated to providing top-quality rental items as well as excellent customer service throughout your entire rental experience. So give us a call and book your favorite rentals today. We guarantee you and yours will have the time of your lives.
Our Vision
The vision at Roseville Bounce House Rental has us making people happy well into the future. We expect to be here for a long time and to continue providing safe and fun experiences for years to come. We look forward to bringing smiles to all the little faces that pass through our doors. Our commitment is to continually strive for excellent customer service, value, and quality inflatable rentals so that your event will be an unforgettable one! We take pride in being a part of creating memories that will last a lifetime. Come join us in making more happy memories with Roseville Bounce House Rental.
If You Want It, We Can Get It
We rent bounce houses, castles, and even mazes. Our themed merchandise is sure to get the little ones excited. If your party has a theme, let us know and we can customize the rental to match. We also offer a variety of packages that include one or more items, depending on your needs.
Our friendly staff is available to answer any questions you may have regarding our services and will help you pick the best package for your party. All of our products are up-to-date and comply with safety regulations, so you can rest assured that all of your guests will stay safe during their time at the event. When you rent from Roseville Bounce House Rental, we guarantee fun, safety, and satisfaction. Call us at (916) 975-8701!